Brazilian Butt Lift Surgery
*Dr. Bill Johnson invites 97.9 The Beat's Veda Loca onto Good Morning Texas
Cost For Brazilian Buttock Lift
The cost for a Brazilian Butt Lift depends on how many areas of liposuction you require.  At Innovations Medical, we offer a flat fee structure called the Mommy Makeover Basic which makes choosing a BBL extremely easy.  The Mommy Makeover Brazilian Butt Lift package is a flat fee of $8500.  Most patients choose to harvest fat from the abdomen when doing a BBL, so Dr. Bill Johnson made it easy to customize the BBL you want.
Brazilian Butt Lift Payment Plans
Innovations Medical offers two awesome options for BBL financing.
Option 1:  Care Credit
Care Credit is our most popular financing option because they don't charge interest.  You can split your procedure into 12 or 24 payments with zero interest.  The fine print…you need a credit score of 640 or higher to get approved.  Apply within our offices.
Option 2:  LendingUSA
Need more payments than 24?  LendingUSA offers patients the ability to split up the Brazilian Butt Lift into 36 or even 60 payments with interest.  That means you could be showing off your new butt for less than $150 a month!  Apply withing our offices.
BBL On A Budget
$8500 out of your budget?  Fret not!  There's a little cosmetic surgery trick called the "Pippa butt lift" you can still get done without breaking the bank.  The Pippa butt lift isn't fat transfer or a bbl at all, but actually just is liposuction on your love handles and lower back.  Most of the time, if you look at your butt in the mirror, it's going to be hard to see where your lower back ends and your butt begins.  By doing liposuction on the lower back, a distinct "shelf" curve is made, and your butt pops out.  See…you had a butt in there all along!  Now, don't expect any gains or roundness in your behind from this procedure.  If you want size increase, roundness, or perk, you're still going to need the mommy makeover basic procedure.
What Is A Mommy Makeover Basic
This makeover package includes Vibro liposuction & Smartlipo skin tightening on the upper abdomen, lower abdomen, and lateral abdomen (that's what we call your love handles)!  The mommy makeover also includes the fat transfer to your buttocks along with the PRP (platelet-rich plasma) upgrade.  Finally, you get one last perk for choosing the makeover package.  You get to choose one extra area of liposuction for FREE!  Most patients choose to add their mid-back bra fat as their free area. Don't want any extra liposuction?  That's fine.  You can choose another area of fat transfer (see Breast Fat Transfer), or you can even do an area of skin tightening or cellulite reduction.  Still not seeing anything you want?  How about a year's worth of dermal filler like Radiesse or Restylane?  It's your choice and it allows you to pick a custom Brazilian butt lift experience.
Why Smartlipo
Smartlipo became a mainstream name in cosmetic surgery in 2007 when the public realized they could get liposuction while awake.  Smartlipo offered patients the ability to get liposuction done without having to go under general anesthesia.  It was a game-changer!  But, the laser was and still is so small in size, that it can only melt so much fat.  If you are using Smartlipo by itself, it is best to keep it to small areas like the double chin or armpit fat.  If you need larger areas of liposuction, use Smartlipo for its amazing skin tightening ability.
Why Do You Need Skin Tightening
Anytime you remove fat with liposuction, the skin will have a tenancy to be loose.  This of a rubber band that you stretched around a can for a year.  One day, you come by and take that rubber band off the can, and put it around a small one.  Most likely, the rubber band won't fit tight since it's been stretched out.  Your skin has collagen (*think rubber bands in your skin) and this collagen is elastic too.  Over time, this collagen can stretch out and lose its youthful bounce back.  Removing fat quickly with liposuction can cause the skin to look loose since it has nothing to stretch around.  Enter Smartlipo!  The Smartlipo laser offers patients the ability to tighten those collagen fibers during surgery minimizing the change of having loose skin post liposuction.  Dr. Bill Johnson combines the Smartlipo skin tightening will most areas of liposuction.
What Fat Is Good For A BBL
Not all fat is created equal…at least in Brazilian butt lift sense.  Choosing the right liposuction areas for your harvest fat is important since it will have a strong influence on the outcome of your Brazilian Butt Lift or 3D BBL procedure.  So, what liposuction areas are best for fat transfer?  Stick to the abdomen and love handles if you can.  Next, look at your arms or inner thighs.  Outer thighs are ok too, but typically there's not much fat there and most patients, who want a BBL, want to hang on to those outer thigh areas.  The worst fat to use in a fat transfer comes from the back.  Bra fat or upper back fat is very fibrous and doesn't survive as well in the transfer sites.  If it's the only fat you have left, well…anything is better than nothing, but try to get your fat from those other areas first.
BBL Surgery Before And Afters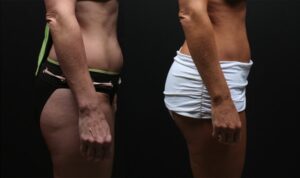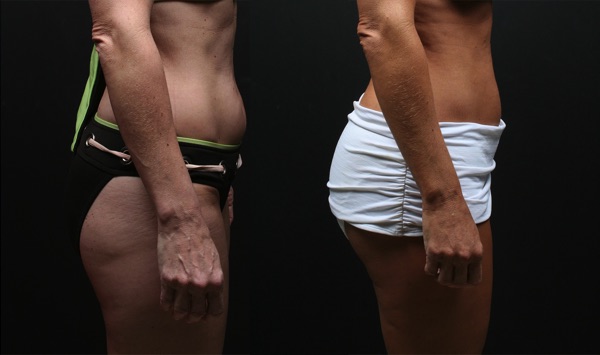 See more before and after photos here
Check Out Veda Loca In The Morning