Tumescent Liposuction

Liposuction has become the most popular cosmetic procedure in the world, but the sheer number of approaches and methods can be overwhelming. One of the most commonly performed and convenient forms of liposuction is called tumescent liposuction.
If you have heard of this approach but have questions, the following comprehensive overview can help you learn the facts and advantages of tumescent liposuction to determine if it is right for you.
What is tumescent liposuction?
Tumescent liposuction describes a form of liposuction done under local anesthesia and mild sedation. Because it is minimally invasive, tumescent liposuction is often called "drive-through cosmetic surgery," particularly when combined with other techniques.
Tumescent liposuction offers the following key advantages:
Tumescent liposuction is safer than techniques that require general anesthesia.
Tumescent liposuction results are similar to or better than general anesthesia techniques.
Tumescent liposuction allows the patient to return home on the day of the procedure.
Tumescent liposuction can lower the cost of liposuction procedures by allowing them to be performed in the doctor's office. There is no additional charge for a surgery center, hospital, or anesthesiologist.
The term tumescent liposuction comes from how the anesthesia is achieved, originating from the Latin word for swollen. During procedures, a specially made tumescent fluid is pumped into the surgical area to make the area firm or swollen. Tumescent fluid contains the following ingredients:
Saline water with salt: This is a typical saline solution with the same amount of salt as our blood. Most of the fluid used is from normal saline. Normal saline allows us to numb large areas safely.
Lidocaine: This commonly used local anesthetic makes the tissue go numb, reducing or eliminating any pain from the procedure.
Epinephrine: This is a form of adrenaline, a vasoconstrictor that temporarily reduces the size of blood vessels. Epinephrine greatly reduces bleeding and bruising. It also enhances the numbing effect of lidocaine.
Sodium bicarbonate: An acid-neutralizing agent that reduces the discomfort from pumping in the lidocaine. It also greatly enhances the safety of the lidocaine and allows large areas to be treated safely.
Who is a good candidate for tumescent liposuction?
Just about anyone who would consider standard liposuction is a good candidate for tumescent liposuction. Liposuction is the procedure of choice for people who want to reduce a localized area of fat permanently. Popular areas include:
Central and lateral abdominal, including the belly and love handles
Inner thighs
Outer thighs or saddlebags
Knees
Arms
Neck
Back of bra-line area
Male breasts
It is important to understand that liposuction is not a weight-loss procedure. Although your body will resist putting fat back in the liposuctioned areas, you will not lose weight because you had liposuction. Seriously overweight or obese patients are generally not considered suitable tumescent liposuction candidates.
Tumescent Liposuction vs. Laser Liposuction
A common question is if there is a difference between tumescent liposuction and laser liposuction and if one is preferable to the other. These procedures are not in opposition and very often are performed together.
Tumescent liposuction describes the anesthetic fluid used during the procedure. Laser liposuction, also called laser-assisted liposuction or SmartLipo, is a procedure where a medical laser enhances the effects of liposuction, including tighter skin, less scarring, and better overall results.
The SmartLipo procedure performed at Innovations Medical is a form of tumescent liposuction.
Tumescent Liposuction Procedure
Dr. Bill Johnson and the Innovations Medical team perform tumescent liposuction at our Dallas and Fort Worth offices. The procedure is performed in a room designed for tumescent liposuction. It is a safe and comfortable environment.
Typically, patients have follow-up visits at the office where their procedure was done. If you prefer, follow-up visits can be arranged at one of the other offices. Procedures generally follow these steps:
Discussion of the patient's goals and marking any chosen areas
Photographs and measurements are taken of the treatment areas
Patients are given some sedative and pain control drugs
Patients are taken to the procedure room
The areas to be treated are prepared, and the patient is placed on a monitor and positioned
The first incision point is anesthetized using a local anesthetic, and the incision is made
The tumescent fluid is pumped in through the incision using tools designed for tumescent liposuction
After the area is numbed, dedicated tools and techniques are used to tighten skin, treat fat and remove fat, including:

Standard liposuction cannulas

Once the fat is removed, the areas are cleaned and bandaged
Patients can go home when they are stabilized and awake enough. A driver is required so patients aren't driving after receiving sedatives.
How long does tumescent liposuction take?
The length of time that a tumescent liposuction procedure takes depends on the type and number of areas involved. Generally, one area should take about 45 to 60 minutes from start to finish. Examples of one area are:
Upper abdomen
Lower abdomen
Both love handles
Both inner thighs
Both outer thighs
Both arms
Some area combinations are faster. For example, the upper and lower abdomen with love handles can typically be done in about 90 minutes. However, we usually use one hour per area to help our patients plan their day.
Tumescent Liposuction Recovery
Most patients are drowsy and want to sleep the evening after the procedure. The night after the procedure, we encourage patients to:
Eat and stay hydrated. Tumescent liposuction is a very dehydrating procedure. We like to see most patients drink two to four quarts of a sports drink like Gatorade® the evening of the procedure. After that, you can generally begin eating normally, and we encourage patients to eat a healthy meal to help promote the healing process.
Take the prescription pain medication at bedtime. We prefer patients take pain medication at bedtime to avoid pain awakening them overnight. After this dose, the pain medication should only be taken as needed.
Move around for a few minutes two to three times. You may be sore and swollen the first to two days after the procedure. Typically, the second day after the procedure is the worst.
Moving around in the early days after the procedure is a good idea. Movement helps to reduce soreness. We recommend wearing a special compression garment after the procedure. The garment is fit at our office immediately following the procedure. We also prefer that you avoid formal exercise routines for two weeks following the procedure. Occasionally, the exercise ban may last for an additional week, depending on progress at the first follow-up visit.
Tumescent Liposuction Recovery Time
Most people can return to work in one to two days. Swelling typically lasts about three to four weeks, but some patients can last for several months.
Our typical return visits are at one week, three months, and six months. Occasionally, we ask you to come back more frequently.
Tumescent Liposuction Results
The final results are usually not fully visible for six to 12 months. The earliest a touch-up procedure can be considered is six months. Touch-ups are additional procedures in the same area to improve or enhance the results. National studies show touch-ups occur in around 20% of cases. Innovations Medical does touch-ups on approximately 8% of cases.
Is tumescent liposuction safe?
Tumescent liposuction is generally considered safe when performed by a qualified and experienced cosmetic surgeon. Tumescent liposuction has been shown to come with a lower risk of complications compared to traditional liposuction methods. When considering any cosmetic procedure, choosing a reputable and experienced provider and following all pre- and post-operative instructions closely to minimize your risk is critical.
Before undergoing any surgery, you should always ask your cosmetic surgeon about potential risks and benefits and discuss your goals and expectations for the procedure.
Tumescent Liposuction Side Effects
Although it is a generally safe procedure, patients usually encounter minor, manageable side effects during recovery. Typical post-procedure side effects include:
Swelling in the area of the procedure: Occasionally, swelling may extend outside the procedure area.
Bruising: Inner thighs bruise almost every time. Necks bruise only rarely. Other areas vary in the amount of bruising.
Discomfort and soreness: Some patients have ongoing numbness that lasts several days or weeks. Severe pain is uncommon. Pain medications are prescribed to be taken as needed. Over-the-counter Tylenol or ibuprofen is often all that is necessary.
As with any surgical procedure, some risks are associated with tumescent liposuction, including infection, nerve damage, and skin contour imperfections. These more severe side effects and complications are extremely rare. Patients should contact their provider or a physician if they experience severe pain, fever, nausea, chills, bleeding, or any other potential signs of a surgical infection or further complication.
Tumescent Liposuction Before and After
See the amazing before and after results of actual patients who have undergone tumescent liposuction at Innovations Medical: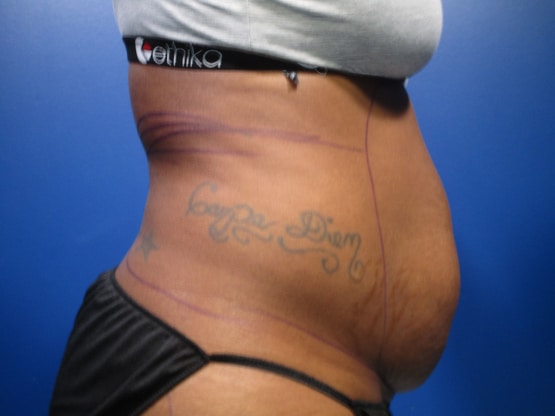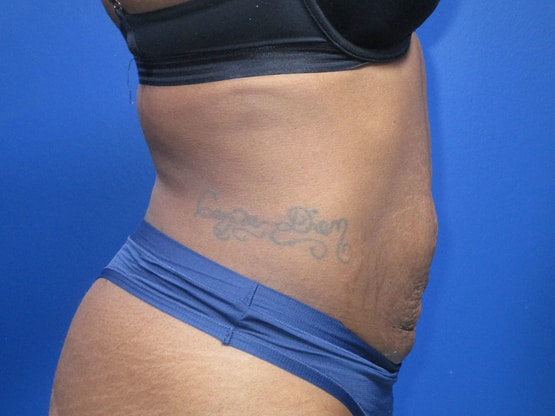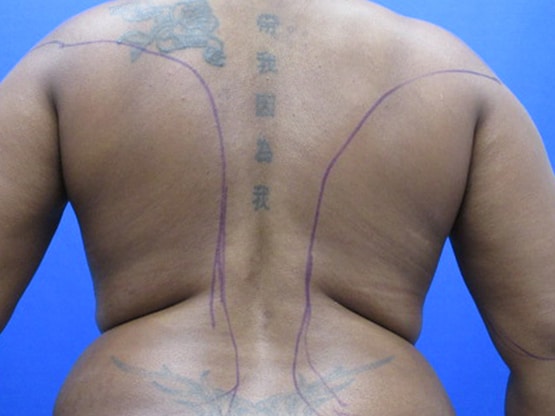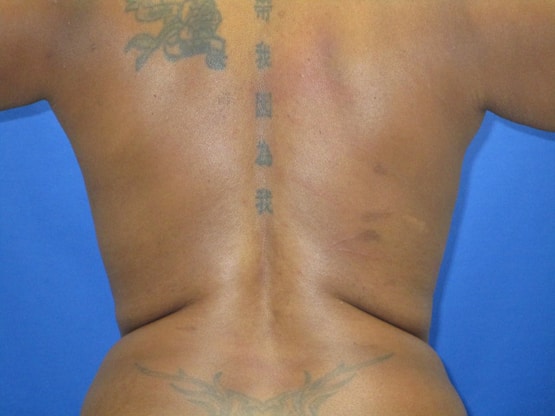 Tumescent Liposuction Cost
Tumescent liposuction usually costs in the range of $2,000-4,000 per body area. Using general anesthesia traditionally adds another $2,500-6,000 for the facility and anesthesiology.
At Innovations Medical, we price body areas as pairs in the same way we perform procedures. When comparing pricing, be sure to compare apples to apples. For example, some centers may not suction an area after using the laser, leaving most of the fat. Some may price just one arm or love handles, and some centers mark small areas.
Since this involves your body and is a significant monetary investment, we recommend in-person consultation and personalized planning for anyone considering tumescent liposuction.
Contact Innovations Medical for Tumescent Liposuction
If you're looking to achieve your appearance goals, Innovations Medical is here for you. Our skilled professionals help you decide which treatment is best for you – keeping you informed and confident in the next steps. We've been helping our patients look and feel their best since 2005, and even our most advanced procedures are often minimally invasive.
To find out if any tumescent liposuction procedures at Innovations Medical are right for you, and to learn how Innovations Medical can improve your life, call us at (214) 643-8665 or schedule an appointment.